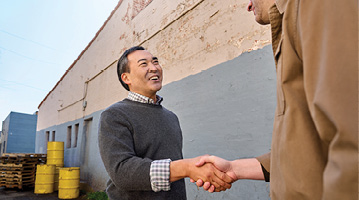 At our core, Nationwide® is a mutual company that has always put people first. This makes it possible for us to dedicate time, energy and resources to serving our community.
Big changes start small
We take a holistic approach to sustainability. We invest time and resources into organizations and efforts that align with our values and reinforce our mission to protect people, businesses and futures with extraordinary care. 2022 highlights include:
Communities and giving
The Nationwide Foundation partners with organizations that create lasting change in our communities by focusing on four strategic impact areas: food security, crisis stability, social and economic empowerment and children's well-being. Nationwide's associates' dedication and their deep relationships with our national nonprofit partners make a real impact across the country.
Diversity, equity and inclusion
Our strategic partnerships focus on increasing racial diversity, driving greater equity and strengthening our communities.
Environmental sustainability
In 2022, we invested $108 million in renewable energy and $688 million in sustainable debt instruments.1 Since 2010, we've reduced our carbon footprint by 41% per square foot.2
Ethics and governance
We're committed to doing business with honesty and integrity and in an ethical and socially responsible way — from dealing fairly with our customers, suppliers and competitors to protecting private information and governing with the highest of standards.
Sowing good seeds
As a mutual company, we believe people are our greatest strength, our largest investment and the inspiration for everything we do. Learn more about our values that translate to service.
To learn more about how we are growing together through our strength and stability, view our 2022 Annual Report.
[1] Includes general account assets for the Nationwide companies and assets managed by Nationwide Asset Management LLC, a wholly owned subsidiary of Nationwide Mutual Insurance Company.
[2] This represents the reporting period of January 2010 to September 2022 and is based on Scope 1 & 2 emissions.