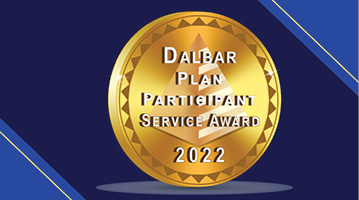 It has been a difficult couple of years for many American retirement savers who watched markets drop and inflation dent their monthly budgets. As market volatility continues, some may be left feeling uncertain about their retirement futures and turning to their retirement plan providers for consultative support. Many are even considering making changes to their long-term financial planning strategy and retirement options.
As a leader in providing phone support for retirement plan participants, Nationwide was awarded the 2022 Plan Participant Service Award from DALBAR, a financial services market research firm. This is the ninth consecutive year in which Nationwide was recognized by DALBAR with this distinction.
"Earning this recognition again affirms our ongoing commitment to helping plan participants reach their retirement goals, demonstrated by our superior service," said Eric Stevenson, president of Nationwide Retirement Solutions. "Our recent survey found 40% of workers are expecting to delay their retirement due to high inflation, so it's more important than ever to continue to provide exceptional retirement solutions support and an extraordinary customer experience."
To earn this prestigious DALBAR award, companies must undergo a thorough and independent year-long audit looking at the quality of contact center interactions. Award eligibility is determined by a review of actual customer interactions against detailed criteria based on superior service standards and industry best practices.
DALBAR's criteria cover all aspects of the customer experience, including both the interpersonal relationship and the transactional elements.
"Nationwide's service levels for plan participants are unmatched. And when we think about how employer sponsored plans work, we come to the quick realization that the plan participants are not the only beneficiaries of this outstanding service. The plan sponsors benefit from exceptional service to participants as well. It saves their HR department time and makes participants more likely to stay in and contribute to the plan," said Cory Clark, chief marketing officer at DALBAR, Inc.
DALBAR is a leading independent auditing and ratings organization for the financial community. To earn this award, companies undergo a year-long independent audit that examines the quality of interactions between the contact center and customers, with an eye on superior service standards and industry best practices.