As a proud partner and sponsor of the National Association of Government Defined Contribution Administrators (NAGDCA), we were excited to have an opportunity to connect and interact with plan sponsors, peers, and members of the retirement industry and community at the NAGDCA 2023 Annual Conference. There were many great discussions, innovative ideas and learnings from others who share in our advocacy for creating a secure financial future for American workers.
Here were some of the key topics of focus this year: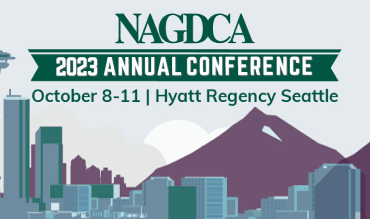 Consider financial literacy, plan complexities and a wide range of audiences when developing a retirement plan communication strategy. This discussion was led by Cindy Hoes, Nationwide Retirement Institute® AVP of Business and Program Strategy, who referenced ways that Nationwide® supports participant communication. A key part of that support is our Participant Engagement Program, our "always on" communication and education source that helps plan sponsors to get participants engaged with their plan and drive retirement readiness.
Exploring current market conditions, interest rates and inflation, what's expected in both the short- and long-term economic forecast, and the impact on plan sponsors and participants. This discussion was led by Kathy Bostjancic, SVP and Chief Economist at Nationwide. Review our Economic updates.
How plans can leverage data to pinpoint gaps in plan usage, when making plan changes, and when developing outreach strategies across key populations.
Understanding the generational divide in retirement plans regarding saving, spending, and retirement income, and how plan sponsors can help participants achieve a secure retirement. 
Reviewing fiduciary duties and responsibilities and providing solutions to common challenges.
Discussion around SECURE 2.0 challenges, opportunities, and the latest implementation guidance. To stay on top of news and information about SECURE 2.0, bookmark this link.
We were proud to see that plans continue to look at Nationwide as an industry leader, with several examples of our participant communication work being recognized. Many plan sponsors were also recognized during the annual NAGDCA Awards. These awards celebrate innovative solutions and bright ideas from across the industry. Congratulations to all of the winning plans and their efforts to deliver successful outcomes for their participants. We also want to thank the City of Seattle for hosting this year's NAGDCA conference and congratulate them on winning the Leadership and NAGDCA Art Caple President's Award.
We look forward to seeing you all at next year's NAGDCA Annual Conference in Phoenix!
To learn more about how Nationwide can help you meet your plan goals, contact your Nationwide Retirement Specialist.